Benefits of Swimming Pool, Sauna and Massage Experiences During Your Travel
Life has become a bit tough for many people, especially these days when the world seems to be going at full speed. One minute you're taking care of your family, and the next minute, you need to fulfil your work responsibilities. The good news is that swimming pool, sauna, and massage experiences are guaranteed to take away all the stress of your modern hectic lifestyle.
Gone are the days when travel was only meant for visiting top tourist attractions and destinations. Now more than ever, travellers crave some peace, serenity, and relaxation, and these are exactly what spas can offer.
A spa day is a great chance to pamper yourself and enjoy some "me time." But did you know that there are also amazing benefits that await your body and mind when you visit a sauna, get a massage, or take a dip in a swimming pool?
Continue reading below to discover some of the top mental and physical health benefits you can enjoy during your wellness travels:
Boost Your Confidence Levels
Have you always felt like your self-esteem is going down the drain? Does your confidence dwindle most of the time? Whether you spend some time in the swimming pool, relax in a sauna, or get your nerves stoked during a massage, even just a few hours spent on these experiences are guaranteed to take your mood to the next level. 
This is all thanks to how these activities help release the feel-good hormones serotonin and dopamine. These same hormones also urge you to look at your body image more positively. Once you start accepting and loving your body for what it is, you'll soon start to become more confident in everything that you do, something that benefits your mental health in the long run.
Enjoy Better Sleep
Does it ever drive you crazy how you seem to stay wide awake late into the night? If yes, then, a day spent at the swimming pool, sauna, and massage might finally put an end to your troubles. The hot temperature in saunas encourages relaxation and sets the right conditions required to help you enjoy a sound and restful sleep.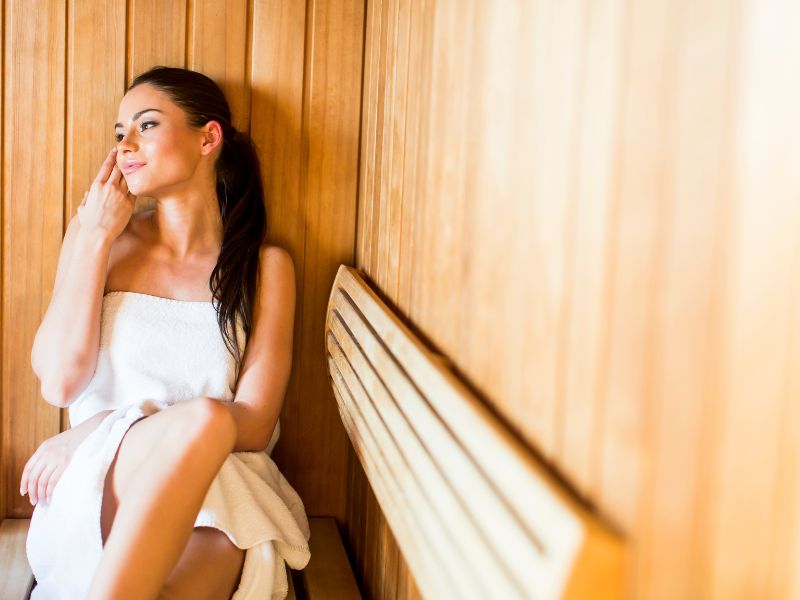 It goes to say that soaking in a swimming pool with thermal waters for around 15 minutes to one hour before you go to bed can bring about a significant improvement in the quality of your sleep. This is such a wonderful thing for those busy and jam-packed schedules. 
Keep Depression at Bay
Depression often brings about a long list of physical symptoms, including back pain, muscle aches, and joint pain. Getting a massage or spending a few hours in the sauna can offer relief to these symptoms and encourage you to feel calmer and more relaxed. 
There are also research studies that reveal that massage can also help lower the levels of the stress hormone cortisol, making it extremely beneficial for those who are conscious of their mental health.
You can choose from some of the most popular types of massages, such as Swedish massage, aromatherapy massage, deep tissue massage, and hot stone massage.
Cut Down Your Stress Levels
Feeling stressed out for a long time can compromise both your mental and physical. But the worst thing that can happen is when your high stress levels result in health concerns including depression and heart disease.
If you want to reduce the amount of stress you experience in life, the ultimate secret is none other than relaxation. Spas and their tranquil environment can greatly help with stress relief.
Research even suggests that visiting spas regularly to enjoy the swimming pool, sauna, and massage can result in an improved overall sense of well-being. Many spas use special products that use relaxing scents to further enhance the effects of stress reduction.
Lower Blood Pressure
Probably one of the most enticing benefits of visiting a spa is the chance to take a good long soak in a hot swimming pool. Research studies suggest that relaxing in a thermal pool even for 10 minutes or so can help lower your blood pressure levels which can benefit your physical health as a whole.
Reduce Chronic and Arthritic Pains
The thermal water from swimming pools in spas can put your body in a more relaxed mode and boost the amount of blood flowing to your muscles and skin. As a result, this has significant benefits in terms of pain management, thus helping reduce the pains and aches associated with certain conditions including arthritis.
Swimming pools in spas are found to help with different types of pains including arthritis, muscle pain, back pain, and joint pain. If you happen to suffer from any of these, spending a day at the spa might be the best remedy you're looking for.
Diminish Severe Headaches
Do you often suffer from severe headaches or migraines? If yes, then, a day spent on a swimming pool, sauna, and massage might work like magic for your overall health. Your stress levels are guaranteed to plunge once you take a dip in a thermal swimming pool, and this happens to be the best remedy for those painful tension headaches. 
Meanwhile, a shoulder and neck massage can ease tension on your shoulders and jaws and boost blood circulation, thus helping lessen the severity of your headaches. Most importantly, just turning off your phone even for one day and spending time in the relaxing environment of a spa may help prevent the onset of painful headaches.
Travelling is supposed to be fun and exciting but you can still take things to the next level by enjoying some rest and relaxation. Scheduling even just one day for swimming pool, sauna, and massage experiences during your trip is more than enough for you to get the pampering you need and deserve.
So the next time you decide to go on a trip, whether it's for weeks or just a few days, make sure that your itinerary includes some time to rejuvenate yourself and lift your spirits.
Posts from the same category: