Say Yes to Funghi Shiitake and Boost Your Health
When you were still a kid, chances are mushrooms are one of those things you wouldn't even dare to touch. Brown and squishy fungus is far from being appetizing anyway. But, as you grow older, you learn that there are a lot of benefits associated with mushrooms. In fact, many people who want to eliminate or reduce the amount of meat in their diet opt to munch on funghi shiitake.
Although these mushrooms are not necessarily packed with lots of protein, they still got enough of it, not to mention that they also have this savory taste that is almost similar to that of beef flavor.
But, aside from their great taste, it was also found out that shiitake mushrooms have medicinal properties that support different functions of the body. It was not too long ago when modern science in the west started catching up with research to document these benefits.
An Overview of Shiitake Mushrooms
With the scientific name Lentinula edodes, shiitake mushroom is a type of mushroom that naturally grows all over East Asia, specifically in countries such as Korea, China, Vietnam, Japan, and Thailand.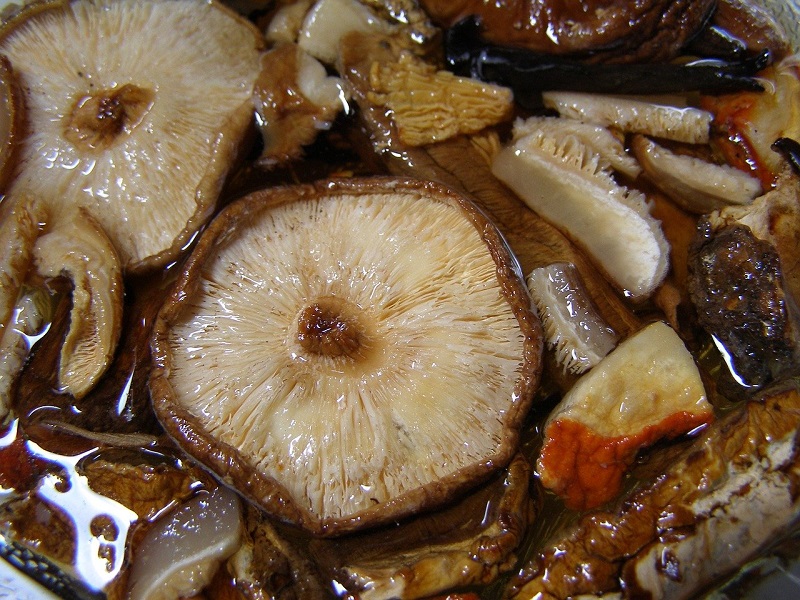 If you visit any of these countries, you will learn that shiitakes are staple ingredients in miso soup, veggie stir-fry dishes, and pho.
Traditional Japanese and Chinese medicines have been harnessing the potent benefits of shiitake mushrooms for many centuries as a form of effective remedy to reduce mucous and support blood flow.
Even though Japan remains to be the main country with the most number of shiitake mushrooms being cultivated, many small and large farms in North America are now growing funghi shiitake. Shiitakes can be found growing on the bodies of fallen hardwood trees when found in their own natural habitat.
Nutritional Advantages of Shiitakes
Majority of the health benefits associated with shiitakes are made possible because of their comprehensive nutritional profile.
Since they have the same amino acids as found in red meat and are low in calories, shiitakes are excellent meat alternatives, specifically when mixed with other vegetable sources of protein.
Aside from fiber, shiitakes also offers good amounts of essential minerals that you cannot easily find in other sources of food. Four shiitakes can already give you as much as 39% of the daily recommended copper amount, 33% of recommended B5, and up to 10% of recommended selenium.
When grown and cultivated under some special UV lights, shiitake mushrooms can also offer a good dose of vitamin that is almost impossible to get in any food source.
On top of this, shiitakes are also rich in special compounds being studied for their ability to support the immune system and defend against cancer. These include polysaccharides, terpenoids, sterols, and lipids.
Key Health Benefits of Shiitake Mushrooms
Funghi shiitake are not only tasty additions to your stir-fries and soups. Shiitake mushrooms also have many health benefits that you can enjoy when you add them to your daily diet or consume them in the form of a supplement.
Take note that western research about this medicinal mushroom is still in its early stages. Take a look at what science has to say about the benefits of shiitake for now:
Supports healthy hair and skin
Maybe you have seen those hair commercials that tout the perks of vitamin B5 or also called pantothenic acid. Similar to niacin, all body cells need B5 for them to process carbohydrates and protein to usable energy. This particular vitamin also plays a crucial role in supporting skin and hair health. Even though apply B5 to the scalp or consuming it will not make your hair start to grow again, this can prevent hair thinning.
Offers natural energy
Some of the health benefits of shiitakes are due to their high amounts of B vitamins. Niacin or vitamin B3 plays a critical role when it comes to supporting production of energy and overall health and wellbeing.
If there is no niacin, your body will not be able to convert food to adequate amounts of energy that will help you make it through your day. This specific B vitamin can also support healthy turnover and growth of cells.
All cells in the body need niacin and because this is soluble in water, your cells will not be able to store this for later use. This is why it is a must that you consume enough amounts of niacin every single day.
Activates immune system
The humble shiitakes are quite powerful as far as activating your immune system is concerned and you can buy it at Vegamega food supplements webshop. This is why people who have autoimmune disorders should be take extra care before they consume shiitakes as these can cause the flare up of symptoms.
Research revealed that shiitakes contain polysaccharides that offer support to the immune system and help ward off illnesses and diseases.
Aside from this, most of shiitake's ability to support the immune system steps from their good amount of zinc. This mineral helps in fighting off oxidative stress and infections in the body while keeping age-related diseases at bay.
Reduces inflammation
Inflammation is the main cause of issues in different body parts. Weight gain, depression, joint pain, acne, fatigue, gut problems, and anxiety are all associated with chronic inflammation. 
Heavily processed, high sodium, high sugar, and high fat foods all result to extensive chronic inflammation. Good thing that anti-inflammatory vegetables and fruits can help for your body to fight back.
Studies reveal that compounds found in shiitakes can lower inflammation. There are some studies also suggest that these mushrooms can fight off inflammation through offering support to the immune system and the response of the body to inflammation.
Fights off cancerous cells
Funghi shiitake are not miracle cancer cures but they have some qualities that help fend off cancer and decrease tumors' size. Studies discovered that shiitakes have polysaccharides with anti-cancer effects. In particular, the activation of immune system can also help fight off cancerous cells. Shiitake mushrooms contain lentinan, a compound that can slow down growth of the leukemia cells and prevent them from spreading.
Posts from the same category: